Mike Allen Miniatures
We are proud to offer toy soldiers produced by Mike Allen Miniatures of Kansas City, MO. Mike Allen has hand crafted molds to reproduce in kit form the great leaders of the American Civil War. These 1:32 (54mm) figures stand approx. 2 1/4" tall and bear a remarkable resemblance to leaders portrayed. They are made of Aqua Clean, a Pewter-like alloy which gives the feel of traditional lead soldiers but contains no lead or antimony (it contains tin, bismuth, and silver). Each kit comes in a resealable plastic bag and includes 2 or 3 molded pieces, a color photo to use as a color guide, and a brief biography on the leader. We only sell Mike Allen Miniatures kits, the finished (assembled/painted) figures are illustrated below and in the catalog but are not available for purchase.
Mike Allen Miniatures Catalog
Home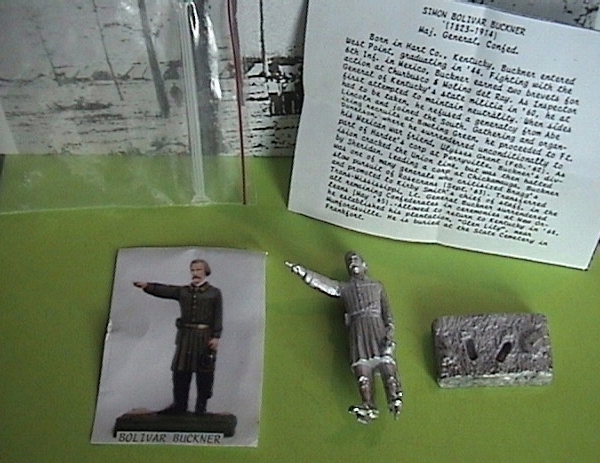 Kit showing all components.
| | | |
| --- | --- | --- |
| Bagged Kit | Finished Kit (Matte Finish) | |